Endless Aesthetic Possibilities With Formliners & Colour Stains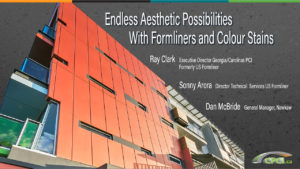 Run Time: 50 minutes
Certificate:
Host: Ray Clark - Sonny Arora - Dan McBride.
Course Information
Formliners can be used to create almost any design desired; brick, stone, wood, masonry, photos, mountains or cultural icons. Adding formliners to precast concrete, you are only limited by your imagination. Colour can define form, shape and space. The perfect colour dramatically enhances the visual appeal of a structure. In recent years, colour staining has exploded onto the marketplace and allowed designers to create new innovative designs. Join us to learn more about the use and applications of Formliners and Colour Stains for precast concrete construction.
Our presenters:
Ray Clark. - ED Georgia/Carolinas PCI.
Sonny Arora. - Director Technical Services, US Formliner.
Dan McBride. - General Manager, Nawkaw Canada.
Highlighting the possibilities and versatility of Formliners and Stains in creating Architectural finishes for new construction, restorations and renovations.
Register to Continue (all fields required)