Meet The Precast Experts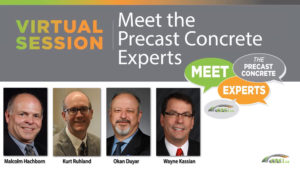 Run Time: 1:15 hours
Certificate: Continuing Education: Upon Completion viewer receives Certificate of Completion by email.
Host: Val Sylaj - CPCI Technical Director
Course Information
Questions, Answers and Discussions on precast concrete challenges with four Precast Concrete Experts. Kurt Ruhland, Okan Duyar, Wayne Kassian, Malcolm Hachborn. Topics include: R-Value, Shear Transfer, Insurance, Inspections, Total Precast Building, Certification, Maintenance, Thermal Bowing, PLC, SMC's, Mix Designs, Hollowcore, Seismic Zones and more.
Facilitator: Val Sylaj - CPCI Technical Director
Kurt Ruhland, P.Eng., Director of Building Structures MTE Consultant, Inc.
Okan Duyar, M.Sc., P.Eng., Precast & MCP Specialist Master Builders Solutions Inc.
Wayne A. Kassian, M. Sc, P. Eng., President Kassian Dyck & Associates
Malcolm Hachborn, M. SC., P. Eng, President M. E. Hachborn Engineering
• Total Precast Concrete Structures
• Self-Consolidating Concrete (SCC)
• Concrete Durability
• Structural Engineering
• Detailing for Success
• The Design, Tender, and Construction Process
• Precast Concrete Mixes
• Energy Codes and Standards
• Calculating Precast Concrete Wall Thermal Performance with Software
• Rain Control Principles Applied to Precast Concrete Walls
• Precast Concrete Certification
• Sustainability
Register to Continue (all fields required)