The Design of Precast Concrete Diaphragms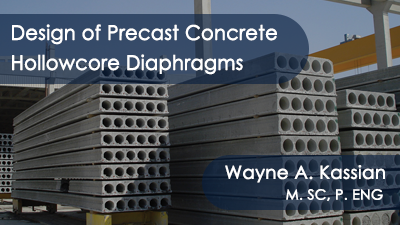 Run Time: 1:21 hours
Certificate: Continuing Education: Upon Course Completion viewer receives certificate to qualify for Professional Development Hours (PDH) and/or Continuing Education Units (CEUs)/Continuing Education Credits (CECs)
Host: Wayne A. Kassian, M. SC, P. ENG.
Course Information
Wayne A. Kassian, M. SC, P. ENG., Kassian Dyck & Associates provides an overview of the behaviour and design of precast concrete floor and roof diaphragms. The general methodology applies to all types of diaphragms, but in particular hollowcore diaphragms are discussed. In addition to discussing diaphragm design and associated connection details, Mr. Kassian highlights seismic design challenges and lessons.
Wayne Kassian has over 33 years of diverse structural experience in the design of precast, steel, and concrete structures. He received his B. Sc. with Distinction at the U of A in 1985 and obtained his M. Sc. in 1990. Wayne has been the senior structural design engineer for numerous projects, across Canada and the United States including multi-million dollar industrial and commercial structures. Wayne has years of experience in the design of precast concrete structures, and is a member of the CSA A23.3 Technical Committee on Reinforced Concrete Design.
1. The advantages of precast/prestressed hollowcore slabs over other more traditional systems, and their beneficial impact on construction time schedules.
2. The Code Requirements for designing hollowcore diaphragms.
3. How diaphragms work to transfer lateral earth pressure, wind loads, or seismic loads through the building.
4. How to design hollowcore slabs as a diaphragm and transfer horizontal loads to the lateral load-resisting system.
5. The impact and importance of connections on hollowcore diaphragms.
Register to Continue (all fields required)