Integrated Ventilation Solutions Significantly Improve Air Quality and Reduce Airborne Disease Transmission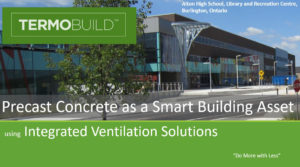 Run Time: 52 minutes
Certificate: Continuing Education: Upon Course Completion viewer receives certificate to qualify for Professional Development Hours (PDH) and/or Continuing Education Units (CEUs)/Continuing Education Credits (CECs)
Host: Tom Machinchick and Jack Laken
Course Information
Integrating TermoBuild Technology with the building envelope, precast concrete floors and HVAC system combines four systems: heating, cooling, fresh air ventilation, and thermal energy storage. In addition to elevated efficiency, Integrated Ventilation Design reduces the risk of the spread of infectious diseases by significantly curtailing the recirculation of stale air within the building. This session will substantiate the value of integrated ventilation design. Discover how to position precast concrete hollowcore slabs as a smart, sustainable building material for new construction and retrofits for low-energy or zero net energy intelligent buildings, and more.
Jack Laken P.Eng, Founder; Termobuild specializing in radiant, resilient and energy efficient Net Zero "Smart City" buildings. The core of Termobuild's method is the "Building as a Battery" (BaaB™), a minimalist technology that uses the structure to capture, retain and distribute heating and cooling naturally without relying on bulky energy-guzzling conventional indoor comfort systems.
Tom Machinchick: With over 12 years as a research analyst and consultant in the global commercial and residential buildings technology industry, Tom has covered all aspects of energy efficiency for commercial and residential buildings including HVAC systems, Energy Services Companies (ESCO), intelligent building systems, utilities, renewable and distributed energy, and other relevant topics – including global market forecasts. Tom has been a recognized voice in the building's industry with numerous publications and conference appearances discussing leading edge building topics.
Understand the value concrete and hollow core precast concrete slabs present to the sustainable buildings construction industry.
Actively engage dormant properties of concrete and concrete hollow core flooring slabs through integrated ventilation design.
Substantiate the value of integrated ventilation design to fill the gap that exists in the market.
Learn more about the applications and components of an integrated ventilation "Smart" floor Kit.
Position concrete and concrete hollow core slabs as a sustainable building material for new construction and retrofits for low-energy or net zero-intelligent buildings
Register to Continue (all fields required)